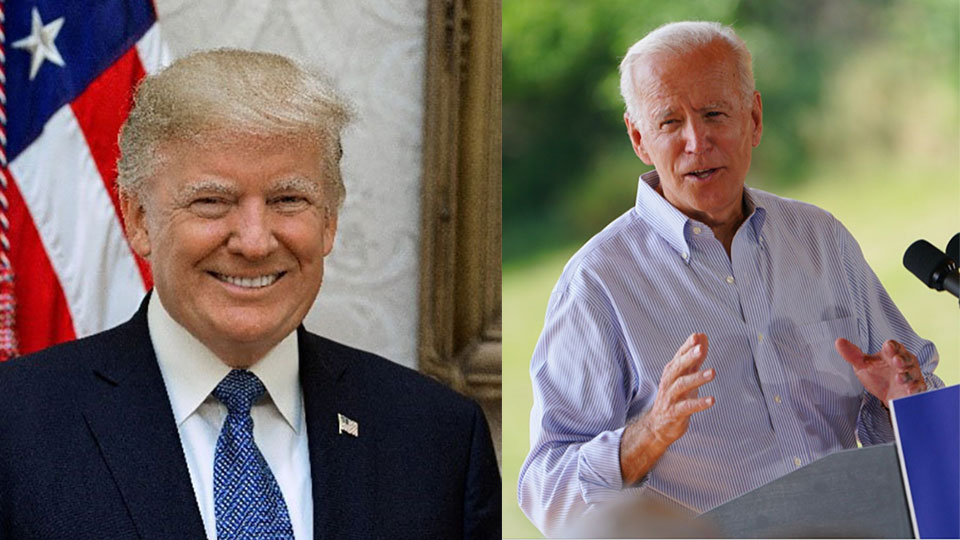 After a long night and another long day, the country still doesn't know who our president will be in January. The final answer on the presidency seems to reside with the states of Georgia, North Carolina, Pennsylvania, Nevada and perhaps Arizona. Certainly, this can feel very unsettling.
As we all wait together for what may be many days, we encourage all believers to remain in prayer for America—for the deep divisions in the country, for whomever will ultimately be named president, and for God to be preparing the many godly men and women who were elected to public office last night.
We also want to provide you with an initial update of overall election results that Kansas Family Voice tracked last night—many of them victories that you helped achieve!—as well as our thoughts on "what's next?".
With your support and prayer, Kansas Family Voice invested in key Senate races, micro-targeting voters with our pro-family messages. It looks as though the pro-family candidate won in four out of seven of those races, and two may head to a runoff:
Kansas: Current Rep. Roger Marshall elected to the Senate

✔

Montana: Sen. Daines reelected

✔

South Carolina: Sen. Graham reelected

✔

North Carolina: Thom Tillis continues to hold a lead
Georgia: Sen. David Perdue continues to hold a lead, but this may head to a runoff
Georgia: Sen. Kelly Loeffler advanced to a runoff
New Mexico: the pro-family candidate, Mark Ronchetti, lost
This is wonderful news, and these likely victories were only possible because of you! The wins in these races will help stop extreme policies related to abortion and gender, will safeguard religious freedom, will put a stop to any "court-packing" plans, and more.
Pro-Family leaders made gains in the U.S. House!
This was something that was unexpected—it appears conservatives gained some seats, the amount yet to be determined, in the U.S. House! Your support made that possible, allowing Kansas Family Voice of New Mexico to invest in what many deemed the most contested U.S. House race in the country, New Mexico's 2nd congressional district where pro-family leader Yvette Herrell achieved a win!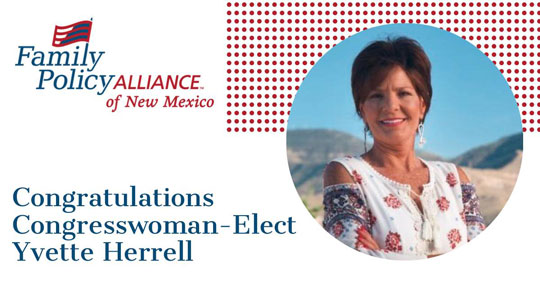 Important wins for pro-family leaders and policies in many, many states!
As you know, the heart of our work is transforming policy at the state level, which is where most of the policy action (and work to advance prolife policies!) is at—especially with gridlock in D.C.
Though results are still coming in, we are happy to report some outstanding pro-family wins across the country. Here are a few examples:
Our friends at Louisiana Family Forum worked hard to pass a pro-life amendment to their state constitution, declaring that there is no constitutional right to abortion in their state constitution, and they were victorious! Hopefully other states will follow Louisiana's lead.
Pro-family leaders strengthened their majorities in states including Kansas, according to our friends at Kansas Family Voice of Kansas.
Key states, like Minnesota and Pennsylvania, retained pro-life majorities in at least one body of their legislative branch.
Many Christian legislators who have been trained in the art of public policy from a Christian perspective won their elections and are now serving you in state capitols across the country (more on this good news to come!).
Obviously, the votes and data are still coming in. We will have more to share with you in the days to come—and more good news to share about how you made a difference in critical races, including by reaching pro-life, pro-family voters who are inconsistent at actually voting.
But, until then…
What's next?
The razor-thin margins on the presidential race tell us that our country is deeply divided. We have three suggestions for the family of believers as we await results:
It's not a time to be anxious, but a time to pray.
Thankfully, as believers, our hope doesn't rest in any political leader of any party. So let's join in prayer for our country, for its next leader (whomever that may end up being), and for each other.
Remember who our enemy is.
It's important for us as believers to remember that our enemy is not the person who voted for the candidates we didn't, nor is our enemy the person that supports the policy ideas we don't—even on abortion. Rather, our enemy is a spiritual one who spreads lies and cheers when something truly terrible, like abortion, gets legitimacy in a form of human government. So, we must fight against that enemy, while loving our neighbors.
Join us in continued prayer and thanksgiving for the Senate!
If the US Senate does indeed retain a pro-family majority, this is a major praise! The efforts in these races were truly a team effort, and your support allowed Kansas Family Voice to focus the majority of our resources on the tightest races there. These victories will provide a firewall against the far left's political agenda—including on abortion, sexual ideology, court-packing, and more.
Waiting and praying with you—and thankful for the victories you made possible, by God's grace,
The Kansas Family Voice Team