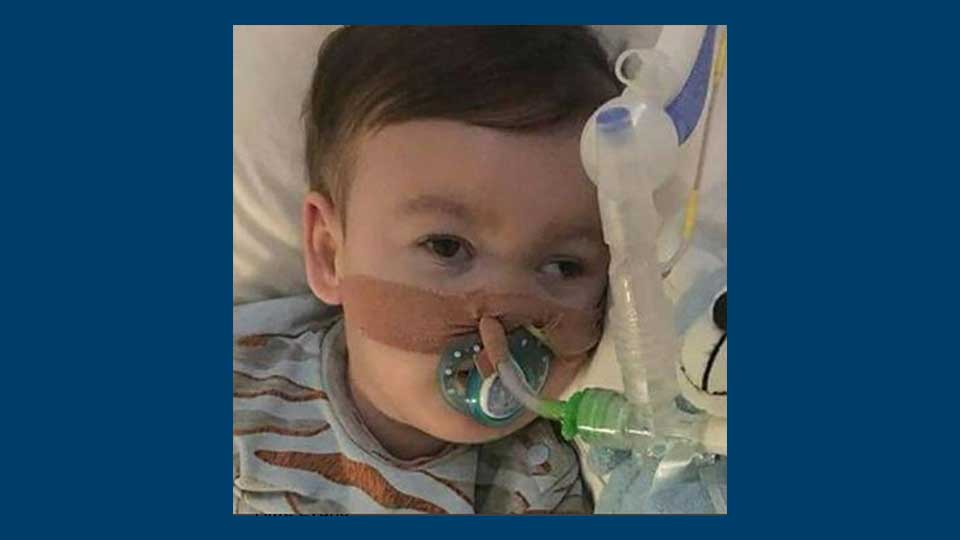 By Stephanie Curry, Esq., policy manager for Kansas Family Voice
Alfie Evans is only 23 months old, but he has been on life support in a UK hospital for nearly half of his young life because of a degenerative brain disease. The doctors at the UK hospital determined baby Alfie is in a vegetative state and that it is in his "best interests" to have his life support removed.
Katie and Tom are fighting desperately for their child's life in the UK Court system to stop the hospital from removing Alfie's life support.  Alfie's parents have lost appeal after appeal to prohibit the hospital from making a choice that should only belong to the parents.  Sadly, the UK Court of Appeals agreed that keeping Alfie alive was "inhumane". The UK Supreme Court ruled that Alfie's life support would be "futile." And, ironically, even the European Court of Human Rights sees nothing wrong with these decisions and rejected Alfie's case.
This case may remind you of baby Charlie Gard, whose parents also unsuccessfully fought a UK hospital last summer to give their child a chance at life through experimental treatment. It also may remind you of Simon Crosier, who was born here in the United States. Missouri hospitals made the same decision, that Simon's condition was futile, and he was denied life-sustaining treatment when doctors placed a do-not-resuscitate order on his file without even notifying his parents.
Alfie's Dad, Tom Evans has described the pain his family is facing –Little Alfie is "about to be murdered." Who can blame this father's heart? Tom and Katie have a fierce desire to protect their child's life. The heart of a parent fills with hope and love for their child that can only belong to parents. A love that doesn't belong to doctors, or hospitals, or governments.
Kansas Family Voice and our state allies, along with likeminded legislators, determined that parents should never have to go through what Charlie's, Simon's, and now Alfie's parents have faced.
Kansas Family Voice of Kansas supported passing Simon's Law, the first in the nation, that gives parents ultimate authority over whether or not a hospital can remove life-sustaining treatment from a child.
Simon's Law legislation was also introduced in Georgia by Senator Chuck Payne, a legislator who was trained at Family Policy Foundation's Statesmen Academy last year. Unfortunately, Simon's Law legislation did not pass in Georgia this session. Elected leaders in Georgia thought Simon's Law was too controversial for a vote.
This is a powerful reminder of why we need elected leaders who are willing to protect life and parental rights. The purpose of the Statesmen Academy is to train elected leaders to hold fast to their faith and principles in public office and to advance the values—like life and parental rights—that we care about through the laws they pass.  Senator Chuck Payne advances these values in his position, but he can't do it alone.
We still have a chance in America to fight for the right of parents to parent. Simon's Law will be coming up again in Georgia next session, and other states. As elections draw nearer, be looking for candidates who cherish life and believe parents are in the best position to love and protect their children!
And, if you'd like to support the Statesmen Academy, a generous Christian family has provided a matching grant for this June's Statesmen Academy, so every dollar given now will be matched—up to $80,000!