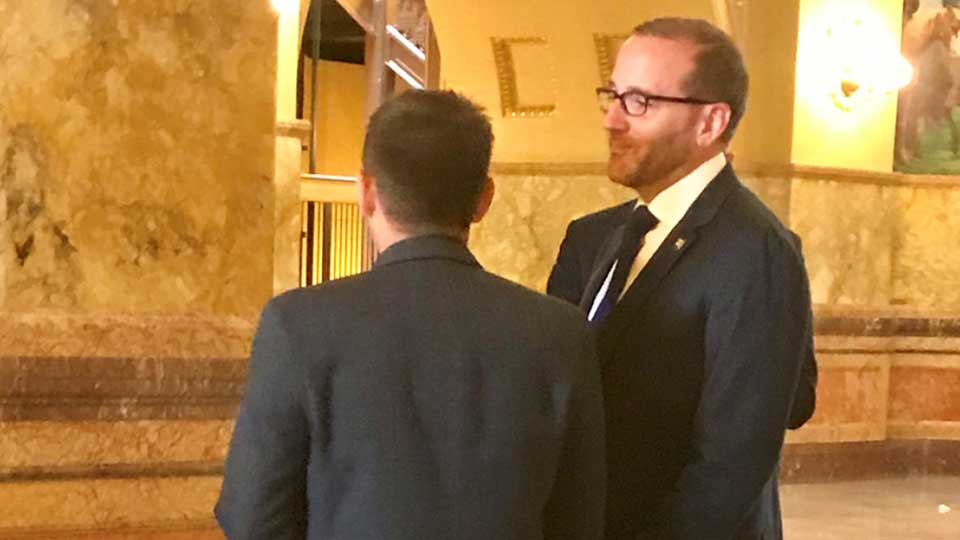 Chad Griffin just showed up in Topeka.  That's him on the right in the photo above, talking today with someone at the state capitol.
If you're not familiar with Griffin, he's the top gun for the LGBT movement.  Specifically, he's the president of Human Rights Campaign, the D.C. group that pushes the buttons for radical LGBT efforts nationwide.  He's been attacking Kansan Mike Pompeo in his bid for Secretary of State, but now he found time to fly out to our state.
Why is he in Kansas? To convince Republican legislators to defeat the Adoption Protection Act, a good bill that would protect faith-based adoption agencies from being forced to violate their consciences. Griffin and his allies have already succeeded in shutting down faith-based adoption agencies in Massachusetts, Illinois and elsewhere.
Will he convince enough Kansas Republicans? That depends on whether they're hearing from enough common-sense Kansans.
If you haven't sent a note to your representative yet, please do so right away.  And maybe most importantly, please pass along this email widely and share the Action Center link on Facebook, Twitter and other social media.
Thank you for making your voice heard for life and religious freedom!