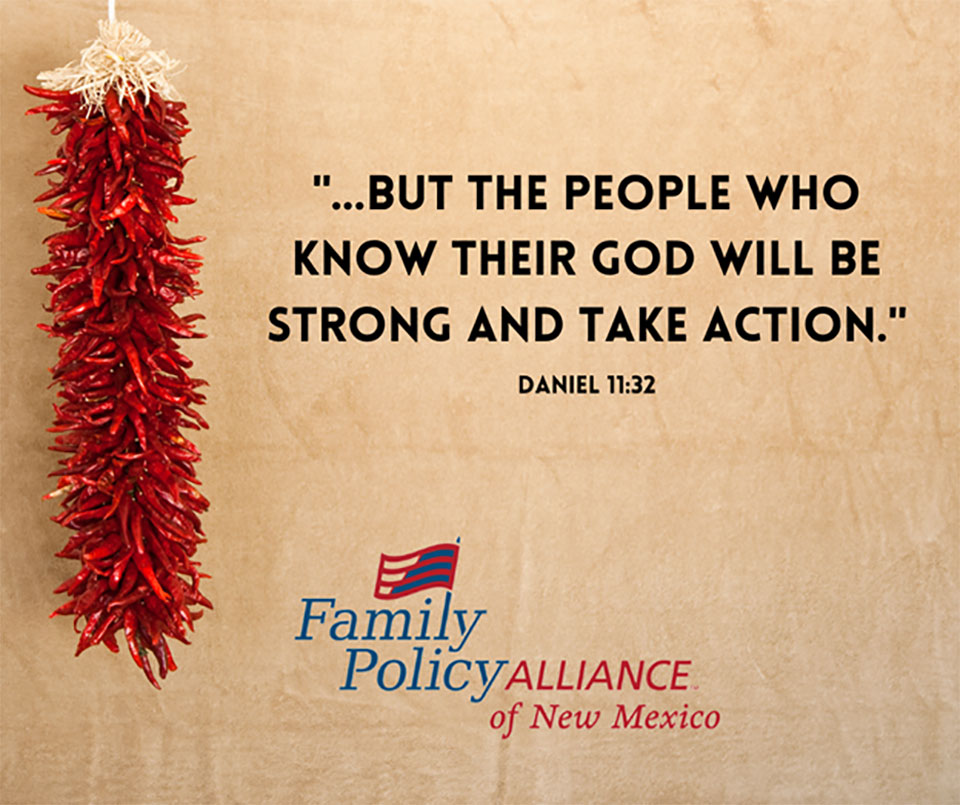 It's the last week of the session, and things are happening quickly. Thanks for staying engaged and taking action!
On Sunday, there were two big developments on bills that we've been telling you about.
ASSISTED SUICIDE. First, the Senate Judiciary Committee met for several hours on Sunday and heard House Bill 47, which would legalize assisted suicide in New Mexico. Kansas Family Voice was one of four groups allowed to testify against the bill in the minimal time allowed.
It was clear that the hundreds of emails you sent through our Action Center – plus countless phone calls to key senators – made a difference. For a time, it appeared that the bill might be defeated in the committee. But one of the senators with strong concerns about the bill ultimately voted to allow the bill to go to the Senate floor, where he will attempt to address some of its major problems. With his vote, the bill passed committee, 5-3.
Despite the fact that it only passed committee last night, it could be voted on by the full Senate as early as today!
Your action is needed!
Please take five minutes to call these key senators and leave a simple message asking them to vote NO on assisted suicide (HB47):

Senator Campos:         (505) 397-8818
Senator Ivey-Soto:       (505) 397-8830
Senator Munoz:            (505) 397-8836
Senator Pinto:               (505) 397-8841
Senator Rodriguez:     (505) 397-8844
Senator Shendo:          (505) 397-8849
Please also take 30 seconds to send a message to your senator – even if you have done so previously.
RECREATIONAL POT. Thank you to the hundreds of you who also reached out to the Senate committee that was scheduled to hear the bill to fully legalize Big Marijuana in New Mexico. Yesterday, at the last minute, that bill (House Bill 12) was moved to the Senate Judiciary Committee, where it may be considered today or tomorrow.
That move to a new committee is likely an indication that your messages were making a difference! But now Senate Judiciary needs to hear from New Mexicans who are concerned about the Colorado-style damage that this bill will inflict on our state!
Please take a moment to urge the Senate Judiciary Committee to oppose recreational marijuana (HB12). When you send a message, it will also include your own senator, even if they aren't on the committee.
From the elderly and infirm (assisted suicide) to vulnerable young people (Big Marijuana), these attacks devalue life and must be fought. Thanks again for standing firm and taking action!
The Kansas Family Voice of New Mexico Team